Introduction
Our goal is to help facilitate our authors for the seamless and professional publishing of Books with Bentham Science Publishers (BSP). These instructions will guide authors on all steps for the preparation of their Book/chapters.
The preparation and publication of an Book is a joint effort between author(s) and publisher. We encourage authors to concentrate on the scientific content of their Book and leave the minor layout and compiling matters to us.
Why Publish With Bentham?
Bentham Science Publishers offers the following benefits:
Easy submission process – Direct submission of the Book/chapters to our editorial office via email at books@benthamscience.net to be then dealt by a dedicated editorial manager. Your editorial manager will guide you through the Books planning, submission and publication.
Book Peer Review – Thorough and rigorous peer review process conducted by a neutral panel of experts to ensure originality of the contents.
Complementary Book Access for all contributors – Entitlement to the author/editors/contributors to free access of the published Book.
Publication in multiple formats – Publication in various electronic formats such as PDF, HTML and ePub formats, in addition to print-on-demand editions.
Distribution on various Book platforms – Distribution of Books through multiple Book aggregators and library platforms - including Barnes & Noble, Books Corporation, eBrary, Amazon, etc - for extended buyer access.
Open Access Book/Limited Open Access: offers an author fee based publication option that allows free open access and downloadable content with potential to reach a larger audience of readers.
OUR FOCUS
Bentham Books is a comprehensive online Book/Book series publication program intended to cover all major disciplines including sciences medicine, technology, humanities and social sciences.
Bentham Books publish authored and edited Books, textbooks, monographs, handbooks, review volumes, Book series, etc.
The below author guidelines are based on standardized Book writing norms, and have been fully endorsed by the publisher. Author(s) and editor(s) of Bentham Science Book(s) should endeavor to follow these guidelines before submitting chapter(s), Book or Book series material to the publisher.
All submissions for proposals, Books and Book series as well as any queries/suggestions should be addressed to the Editorial Manager at Bentham Science at books@benthamscience.net
Types of Books
Authored Book is written by the single author.
Edited Book is written by multiple authors and edited by one or more editors.
Book Series is a set of Books published in a series of volumes either in a closed (finite number of volumes) or open series format (indefinite number of volumes). Interested Author(s)/Editor(s) may submit the proposal for Book series using the Proposal Submission Form for any of the following types of Book series. The publishing contract signed by Author(s)/Editor(s) for the publication of series will initially be valid for two volumes and may be renewed by mutual consent for future volume(s).
Authored Series: Each volume is written by one, two or a maximum of three authors. The book series volume may comprise of several chapters written by the same authors.
Edited Series: Each volume is edited by a minimum of one or a maximum of four editors. The book series volume may comprise of several chapters written by different authors, solicited by the Editor(s). Simultaneously, the editor(s) may also be the author(s) of some chapter(s).
Editor(s)/Author(s) interested in Editing/Authoring a complete series or even a single volume, on any one of the titles mentioned here, may contact at book-series@benthamscience.net.
Author(s) interested in contribution of one or more chapters, to any one of our ongoing series mentioned here, may contact at book-series@benthamscience.net.
Submission of Book Proposal
Submission of a Book proposal prior to the Book preparation is a simple 3 step activity as shown in the following chart: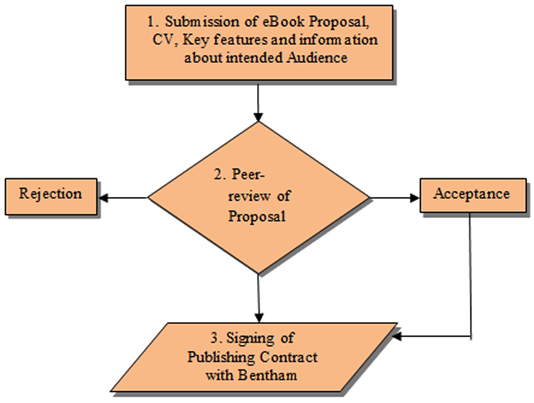 Publishing Agreement
Once the peer-reviewed Book proposal is approved by BSP, the Editor/Author agree to sign a publishing contract for their Book with the publisher.
Book/Chapter Submission
For all online submissions, the complete Book/chapter(s) must be provided in the form of a single zipped folder containing soft copies of all the materials (main text in MS word or Tex/Latex format, figures/illustrations, tables, equations and chemical structures) as separate files, while a PDF version of the entire Book/chapter must also be included, embedded with all the figures/illustrations/tables/chemical structures etc. in the correct location.
Note for the Editor(s)/Author(s)
The Book must be written in English (American or U.K. spelling), in a clear, direct and active style. All pages must be numbered sequentially, facilitating in the reviewing and editing of the Book/chapter. Authors from non-English speaking countries should collaborate with English speaking colleagues or contract with professional English editing companies who can check and improve the language, style and grammar of the Book. Alternatively, for English language and grammatical corrections, editors/authors may also seek assistance from Eureka Science, our contracted publishing services company.
Submission of a Book/chapter entails that the work has not been published previously nor is under consideration for publication elsewhere. Submission of any content to Bentham Science Publishers (BSP) will automatically transfer all rights for publication, selling and distribution in all forms of media (electronic and printed, etc) to BSP. It is the responsibility of the person submitting the contents to have prior written consent of the organization/person where/by whom the work was carried out.
It is assumed that the editor has reviewed and accepted the contents submitted by chapter/contributing authors prior to final submission of the Book/chapter to BSP. The Publisher will not be responsible for technical or scientific editing of the Book contents.
It is imperative that before submission, authors should carefully proofread the Book/chapter content files for special characters, mathematical symbols, Greek letters, equations, tables, references and images, to ensure that they appear in proper order and format.
Author Fee-Based Open Access Books
These are freely available to download and view to potentially a very large audience world-wide, thereby having a much greater impact than conventional subscription-based printed or online Books. The upfront charge for publishing a single open access Book is US$ 20 per published page of the first 200 pages and US$ 15 for all additional pages above the first 200 pages.
Fast Track Open Access Chapter Publication
This option allows chapter author(s) / contributor(s) of a Book to have their chapter published as an open access chapter after it has been carefully reviewed and approved by the editor even before the complete Book is finalized and published. Chapters published as Fast Track Open Access will be published within 15 working days from receipt of payment and written consent from the Book editor (whichever is later). For any chapter to be published as Open Access it is a pre-condition that there are no errors in English grammar nor any plagiarism. Before the chapter is considered for Fast Track Open Access publication, the Book editor must also confirm that he has reviewed the chapter for scientific contents and considers it suitable for publication.
The fee for "FAST TRACK Open Access" publication is US $ 26 per page. The chapter will be replaced by its modified version if any modifications are made therein, as advised by reviewers. Chapter authors who opt for the Fast Track Open Access option do not have to pay figure improvement charges if any figure improvement is required.
Limited Open Access
Book editors or contributing authors may choose to publish their chapter(s) with BSP at a reduced fee for a limited open access period. For open access publication for a period of either six months or two months (limited open access option) the per page open access fee is US$ 12 or US$ 6 respectively.